An Online Creative Vizsla
Repository And V'Zine
Introducing the Sentinel 2012 Cover Girl
CH Dealt A Queen ss Paradox JH, Mayor of Mudsville
Across the Ohio River down Rabbit Hash way, another dog mayor presides over her town of Mudsville & rules her kingdom like no other before or after her. She has no idea that she is weird or bossy. The only thing she knows is that you are hers, she lives to serve & that while she is an all-terrain searching, obsessive-compulsive about retrieving Vizsla.
Delta is a survivor and is ALL Vizsla.
She's a tribute to those who came before & a sentinel for the future.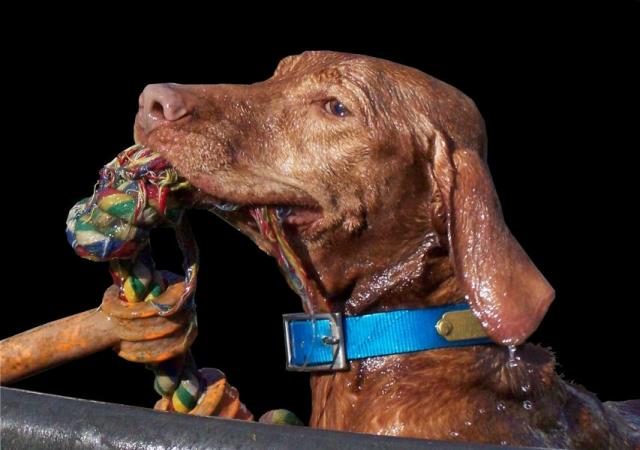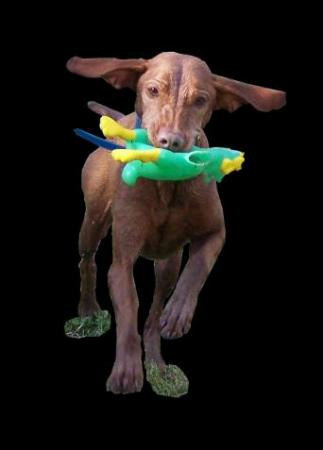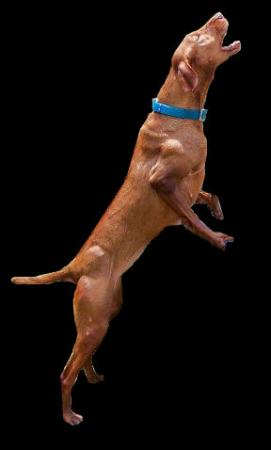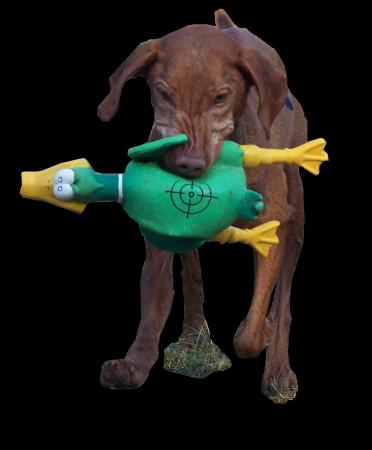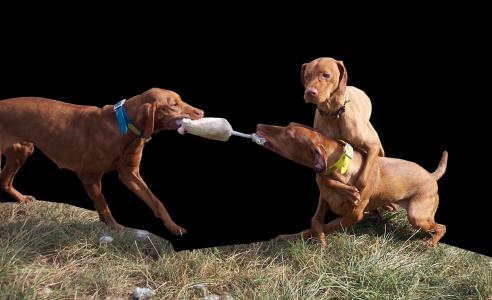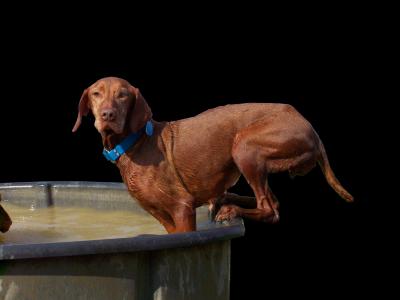 Delta, The Mayor of Mudsville has several videos
The Vizslak Sentinel is the fountainhead for Stuck In The Mud Underground Publishing organizing the material that will tell the most complete accounting of Vizsla history ever before, as well as showcasing the essence of...
What IS "Vizsla"
The Vizslak Sentinel is really more like a friendship cake from around the world that is continually adding more ingredients.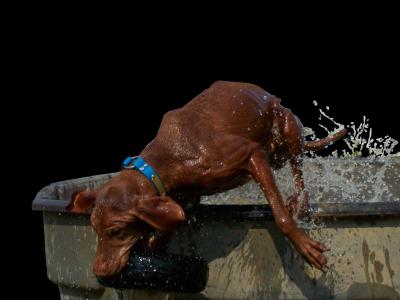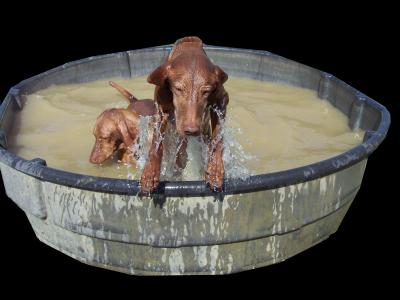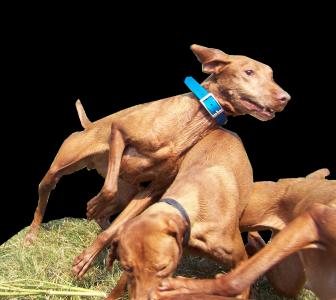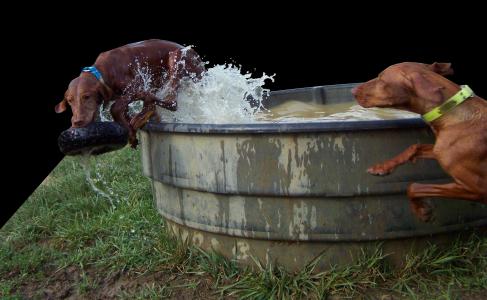 While we @ The Sentinel are not all about the field; please recognize
that the field has been a primary purpose of the Vizsla,
as well as its "versatility" in life...no matter
the job, the century, the country, the person or the dog.
History is told by the last man or woman standing.
*********
SITmUP TOWN CRIER
SITmUP proudly announces their latest advertising program
Next Deadline = December 5, 2012 (Field) The VIZSLA NEWS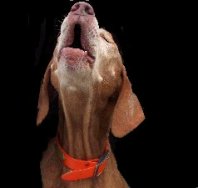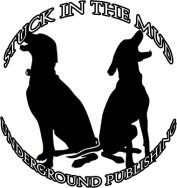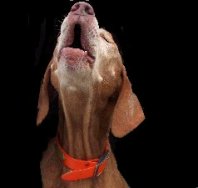 All thevizslaksentinel.com photos/graphics are copyright protected.
********************
He so loved the Vizsla and its peoples
that he gave them his heart, his soul & life
as a sporting gentleman for nearly 60 years.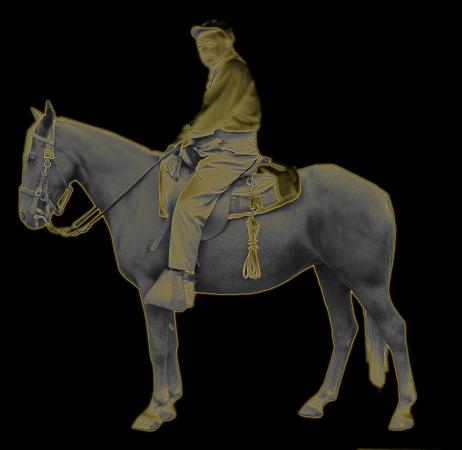 **********
"Rest in peace my friend, I promise to sing our songs." dlb
Boon was a joy & a pleasure throughout his nearly sixteen years.
He is the clown whose endearing ways broke hearts through his
relentless drive & desire to be the VERY best kind of a Vizsla.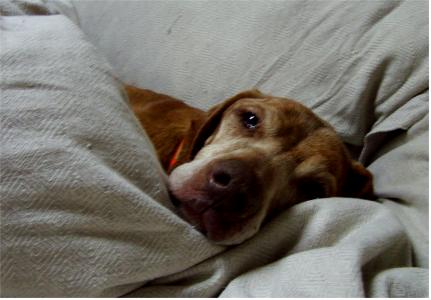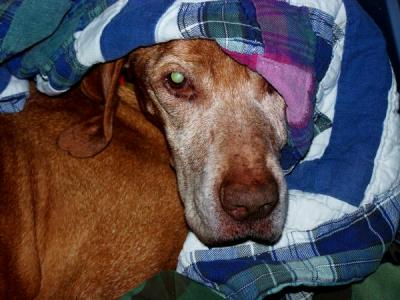 To bring the past, to the present, for our future,
from Vizsla Pioneers' hearts & hearth
To home into heart & hearth with respect & love,
Where those memories will be preserved...
for present & future Vizsla Pioneers.
A"Champion" Vizsla nation must believe in the guiding light of DNA, OFA, QOL purebred principles, form & function with integrity, testing of competitions as well as health & temperament in order to first establish & then maintain a lasting success.
A "Champion" Vizsla nation knows it takes heart & hearth to raise up a Vizsla with a versatile songwriter to pen up the dances of our rustic, magyar mists.
"Versatility"=Defined by Magyar as nimbly able to do very well, countless tasks with a smile on their heart, whether they are pursuing fur or feather as hunter or being an aristocratic companion with excellence, whenever & however needed.
"Vizslak"=Defined by Magyar for the word "Vizsla" in the plural form. It is a Greek derivative & leftover from The Turkish occupation during the fifteen & sixteen hundreds.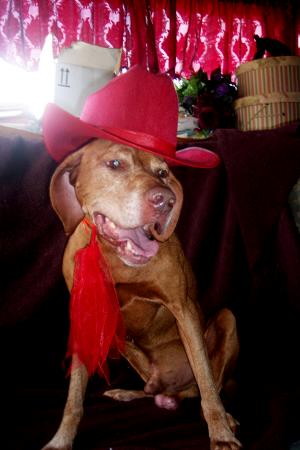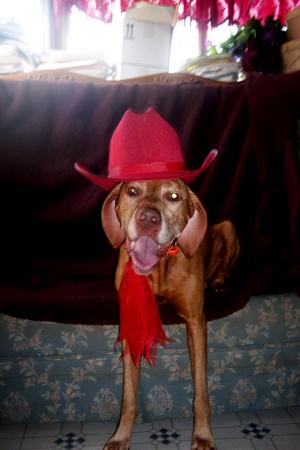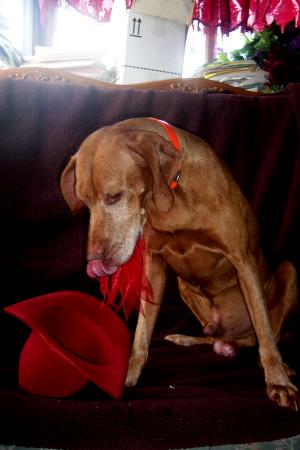 Bitches Rock !!!!!
Through the contributions that all foundation breeding stock, particularly the brood bitches; we are reminded daily of the genetic magnitude of all Vizslak foundation stock that contribute to our rich Hungarian Goulash, regardless of country decade or pedigree. This V'zine is dedicated to the true "Behi engineer" Hilda Boggs. She influenced the US Vizsla through her selfless love & devotion to club, family & breed by recognizing, nurturing & advancing the importance of female Vizslas & female Vizsla fanciers.
There are THREE online websites that are property of
Stuck In The Mud Underground Publishing (SITmUP).
Each provides a different look into the world of Vizslak.
vizslavizipedia.com
Vizsla Vizipedia is an online repository of Vizsla dogs & their peoples. On it you will find people in the decade they first started out in Vizslas. We try to put the dogs where they had their most glory.
vizslavizsmithsonian.com
Vizsla Vizsmithsonian is an online museum of Vizsla dogs & their people's art E facts (artifacts). It is named after Chauncey Merrill Smith Jr (Smitty) and dedicated to The Tallman Family with their "Sari". The museum will house many items of art E facts. So far this is the least developed SITmUP website & won't be up until President's Day 2010.
thevizslaksentinel.com
The Vizslak Sentinel is an online V'Zine of Vizsla dogs & their peoples' love & interests from clubs to events to gatherings to hearth. Here you will find information about past, present & future events along with as many of the other fun & necessary things attributed to being owned by Vizslas. You will also find The Wire Haired Vizslas and International Vizslas who live large inside other hearts.
There is NO ending to where imagination will take discerning Vizsla enthusiasts inside of the three above websites.
"WHO SAID? we were STUCK IN MUD?"
"WE SAID, THAT's WHO!"
This website composes the private and public collections & lifetime investments of Vizslak peoples around the world with an initial focus on the USA & the field because that is the information SITmUP has processed....so far. Please "respect" our collective work on thevizslaksentinel.com and do not use in an unexpected way. The individual collections form the cornerstones of every Vizsla living and owned by "you" today.
If respected by the readers, the information on this
website will remain & grow.
If "you" wish to reprint whole body text or "historical photos" please request written permission from The Vizslak Sentinel by contacting
vizwizdlb@yahoo.com
Credit should be given by providing the appropriate Sentinel UR or "name"
when Sentinel quotes, photos or articles are re-used.

"The Vizslak Sentinel " (c) Jan 13, 2009
Product of Stuck In The mud Underground Publishing (SITmUP)